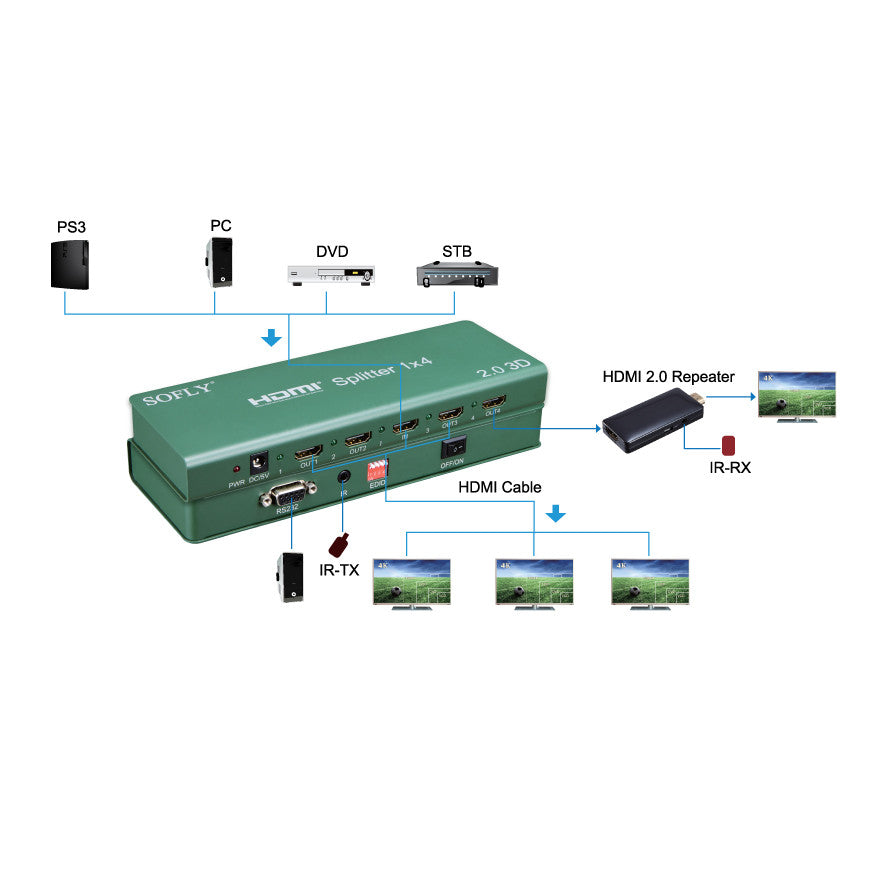 SOFLY SFX911-4-US - Splitter V2.0 (1x4)
SFX911-04-US
Weight: 530g
Description:
This 1x4 HDMI Splitter uses a single HDMI source, accessing to multiple HDMI sinks. It allows one HDMI device to be split easily to 4 HDMI compatible monitors or projectors. In addition, it can be placed at the end of a long HDMI cable to regenerate the HDMI signal. The resolution of this HDMI splitter can be up to 3840X2160/60Hz.
This product can support EDID management function, comes with eight kinds of EDID mode, the users can choose according to their own needs. In addition, this product is with built-in IR extension function, it can work with our HDMI 2.0 repeater which has IR-RX to receive the IR command to control the source
FEATURES
Support HDMI 2.0, HDCP2.2
Support 3D video format
Support high resolution up to 3840X2160/60HZ
Support the max baud rate of 6G and TMDS clock can be up to 600 MHz
Support 8/10/12 bit deep color
Support AWG26 HDMI standard cable:
    when the resolution is 1080p and below, input up to 8 meters, output to 8 meters.
    when the resolution is 4K, input up to 8 meters, output up to 8 meters.
Support single HDMI source, accessing to multiple HDMI sinks, the source can be DVD player, A/V receiver, set top box and etc.
Built-in IR extension function (it can work with our HDMI 2.0 repeater which has IR-RX to receive the IR command to remote control the source)
Support serial port online upgrade
Support EDID management
5V/2A power adapter